On the way to Qumran
saw a camel: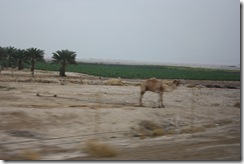 Lots of high tech looking farms: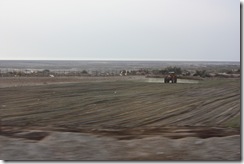 At Qumran they sell beauty products that are developed from salts, muds, chemicals from the Dead Sea: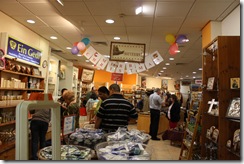 Qumran is where the Dead Sea scrolls were found.  There is a set of ruins of a small village: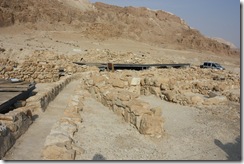 Masada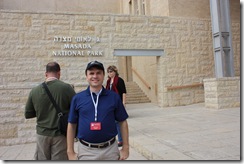 Masada is the famous hilltop fortress where a set of Jews rebellion against the Romans held out until the very end.  The Romans finally made it to the top broke through the walls.  The Jews before suffering slavery and torture at the hands of the Romans decided to commit mass suicide. 
The Israeli arm forces have their swearing in ceremony on Masada (except the paratroopers that do it at the wailing wall).  They end the ceremony by saying "Masada will never fall again!"
You can either walk to the top on a very steep, difficult path or you could take the cable car: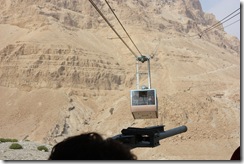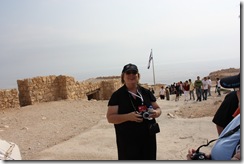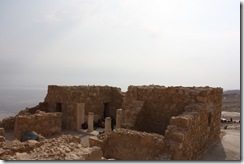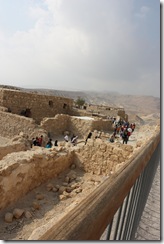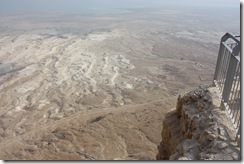 The last few people to commit suicide drew lots to see what the order would be.  (The last man would have to kill himself.)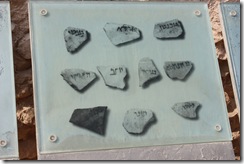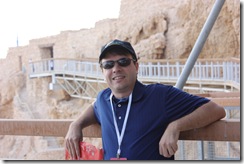 The cable cars were jammed packed: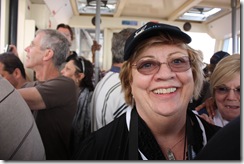 The hilltop where Masada is located: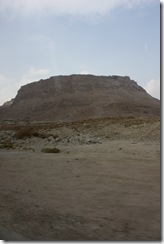 Lunch back in Quamran (too many people trying to get lunch at the same time… too long waiting in line!~)
This is the remains of  Jordan Army camp that was used in the war against Israel:  (This served as the set of the Afghan army camp in the movie Rambo 3)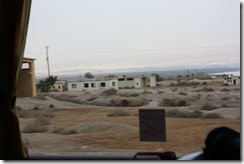 Dead Sea
I took a dip in the Dead Sea.  The pictures are on my mom's camera, so it may be a while before I can post them.  This should give you some ideas though: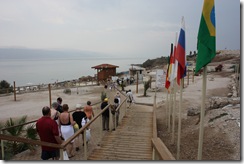 Back to Jerusalem
Recording of the "Celebrate" show on DayStar