Remember playing MySimon (Simon Says) back in the 1980s?  It was a simple game that could entertain you for hours.  It had 4 buttons, each of a different color.  Turn on the game, and one of the buttons would glow.  Then you had to press that button.  Another button was added to the pattern, and the goal was to get to the longest pattern without messing up.
Here I show a simple Arduino based version of this game.  It is simpler because there are only 3 buttons, but it is completely open for you to build on and learn from.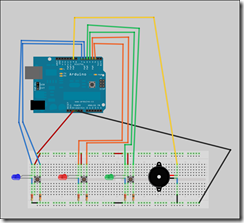 See the circuit and files on Fritzing.org
Update:  I received an email about a more sophisticated version of Simon.
More infos at jadiema.blogspot.com/
Arduino Simon Game: Version 3
Initial Release from David M. Auld (19th October 2009): Version 1 & 2
www.dave-auld.net/index.php?option=com_content&view=article&id=96:arduino-project-simon-game&catid=54:arduino-projects&Itemid=107
Added some features by jadiema: Version 3:
NEW: Added EEPROM storage for high score: level and name
NEW: Multilangage selection
You'll find the code at: code.google.com/p/my-arduino-projects/downloads/detail?name=Arduino_SimonGame_EEPROM_LANGUE_V3_1.pde&can=2&q=#makechanges