My mom and I arrived at the airport outside of Tel Aviv about 5:30 PM local time.  It was already dark!  The sun rises here around 6AM and sets around 5, at this time of the year.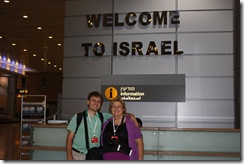 Passport control was not difficult to go through.  I had heard stories from my uncle who came several years ago, and my running partner who had come for business many years ago to.  But I did not find it difficult.  They just want to make sure you are visiting, and that you have legitimate plans.  "Why are you here?" – tour  "Are you with a group?"  – Yes  "Where are the rest in the group?" –They are all spread out (we didn't go through passport control at the same time.)  "Do you have a return ticket?" –Yes  "Can I see it?" –no it is an eTicket  "What is the flight information?"  -Handed the passport agent the travel information the tour company gave to me.  "Where will you be going?" –Handed the itinerary to the agent (Thank goodness they had given those two things to us, and I had them available!)
We met with the tour representative at baggage claim.  It was near there that we took the "Welcome to Israel" picture you see above. 
Then we took a 2 hour bus ride to Tiberius.  We had dinner.  Here is the food that I had: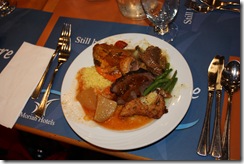 Then we went to our rooms: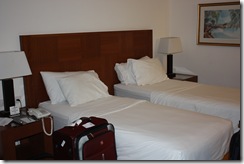 View from our balcony: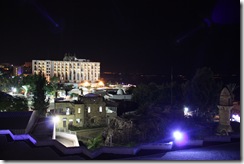 At the airport I had exchanged $100 into Israel Shekels.  The exchange rate was $1 to 3.76 shekels.  Here is an example of the money.  (There is an American quarter in the coins picture.)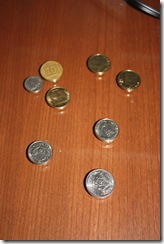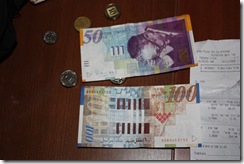 Now time to take a quick shower, go to bed… Wake up time is 6:30AM and we leave the hotel at 8AM.
BTW, Internet access is expensive here.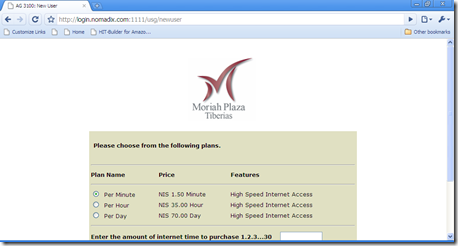 1.50/minute…  which comes out to be about $0.40/minute..  Just like making a telephone call.