Our plane arrived about 30 minutes early to Newark, and our departing plane is leaving about 70 minutes late.  This combined with the original layover time means we will be in Newark for about 5 hours.  Let me catch you up with my day so far.
This morning went to watch Christopher's Basketball game.  It was his first game (and second… they had two back to back).  I got to watch Christopher score his first point in a game.  It was great.  Here are some pictures to give you the idea: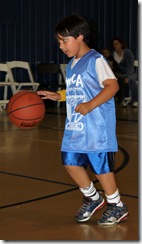 My mom came over just before noon and then we went to Bush Intercontinental.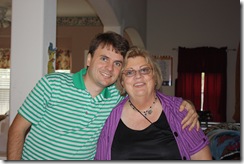 There we are just at my house before leaving.
We are going with a tour group, and about a dozen or so people are coming from the Houston area.  My mom had different assigned seats so we did not get to sit next to each other.  The plane was completely packed, so I didn't bother asking about adjusting seats.  And I think it might be a good idea to meet some of the people on the tour too.  I set between Kevin who is an Audio/Visual engineer from the southwest side of Houston, and Carole who is from Katy.
(more updates after we get to Tel Aviv.,  You can check our progress on Flight Aware at flightaware.com/live/flight/COA90/history/20091121/2042Z/KLAX/KEWR
Looks like our plane is still on its way from Los Angeles….