This morning we started the day with Starbucks coffee and home made pancakes (the just add water kind). Yagi-san had requested a map of Houston yesterday, so I picked up one this morning at the gas station next to the Starbucks. They also had one of San Antonio which we will be visiting during his stay. I got that as well.
I had to work this morning. But Yagi-san went swimming at the YMCA this morning with my in-laws.
At lunch time, we meet Toshio and ate at Bennigans. During lunch Toshio mentioned that he knew of three free tickets to the Aeros Hockey game tonight. So we decided that Yagi-san, my self, and my youngest son Christopher would go.
Then we dropped Toshio at work. Picked up Christopher early from school. Then we drove by the nicer part of my neighborhood where the million dollar homes are. And we drove around Hooks Airport which is next to my subdivision. It was a windy day so there was no one flying.
Then we went to Barbara Bush library to return some books. I had planned to get Yagi-san some videos about the places we would visit, but there really wasn't anything. And Yagi-san did not seem inclined to get anything. There was one of those tourist brochure stands, so we picked up some of things to see around here.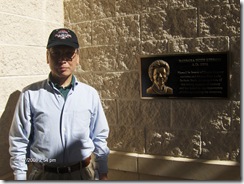 Then we went to the Hong Kong market.
Then I dropped Yagi-san off at the house for a nap. Picked up Stephen and dropped him off at home. Then we went to get Christopher a hair cut.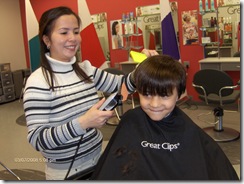 Then we went home and feed the kids. And we waited for the Hockey game.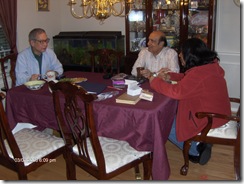 The we went to the Hockey game with Toshio.
We had pretty good seats. Here is one of the contests they had between the periods.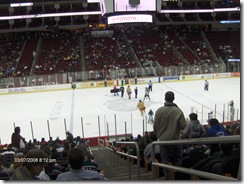 A cheerleader was passing by so we got a picture.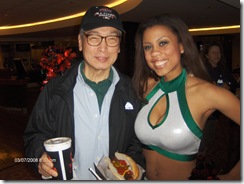 Also got a picture with the Aeros mascot "Chill Dog"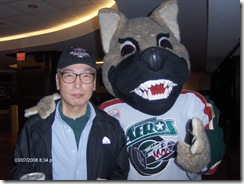 Christopher enjoyed cotton candy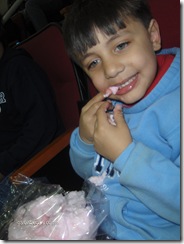 And I had a good time too: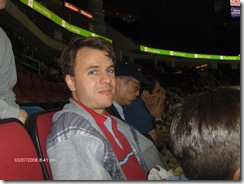 While we were at the hockey game, Stephen went to the chess tournament for the first time. He won 4 games and got a trophy.
anyway, off to sleep tomorrow. Got a big day. running in the morning, then all day at my dad's place.