I'm there at the soccer practice/game wondering if we should go to the Blue and Gold Banquet and participate in the father-son baking contest.  The leader of the event sent out an email saying that even if you had not signed up, then you could still come and participate.  I was looking at the rules and saw the category that I thought we could participate in.  Here are the different contests:
Prizes: To winners in a variety of categories. And, to all, a chance to share some delicious dessert with everyone else. The judging categories include: Best Scout-Themed; Most patriotic; Best sports-themed; Yummiest looking; Most unappetizing looking; Tallest; Flattest; Most original; Most colorful; Most elaborate; Judges favorite.
I saw the "Most unappetizing looking" and I thought back to the birthday parties that we used to go to.  Hemma used to make a cake in a bucket that looked like colorful soil with gummy worms.  It seemed like a simple thing.
After the soccer contest, I talked to Christopher about my idea, and he wanted to do the tallest cake instead.  We got this idea of having a pole in the middle, attached to the base to hold it up, and to cover it with cupcakes.  The rules seem to allow this:
Rule 2. The cake and all decorations visible must be completely edible. You may use non-edible items for support, but they cannot be visible. Remember, this is a cake contest and we will be eating them for desert at the banquet.
This would require a lot of cupcakes, Christopher and I got to baking:
I went to Home Depot to find the supporting structure: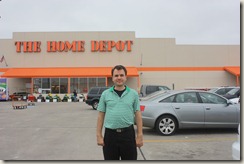 There I met the absolutely best person to help me, Don Alford.  If you have a home improvement project, or any other project that Home Depot might be able to help you, then you want to go to the Home Depot on 249 between Louetta and Jones and ask for Don Alford.
He listened to the project: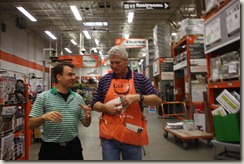 Helped me find the boards to use for the base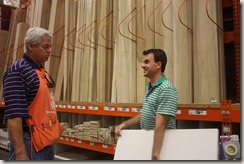 Helped me find the wooden rods to use to support the cake: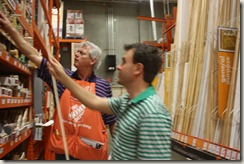 But also suggested looking at the metal rods which we ultimately went with.  And helped me find all the screws, nuts, bolts and everything else.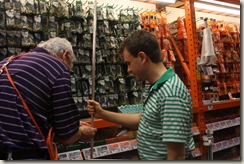 He cut up the boards: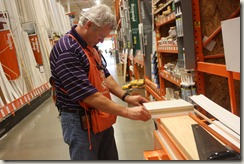 And attached the brackets on to the end: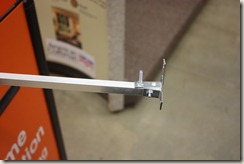 Don was absolutely fantastic!!!   Because of him, I plan to do all of my future home improvement shopping at Home Depot.  Thanks Don!
Then back at home we made a lot of cup cakes: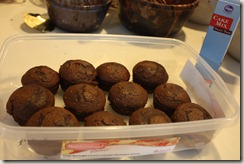 Then we went to the bake contest and put together the stand.  Everything was going as planned:
But then the tower of cupcakes started to shrink.  It was slow at first, and it just looked like normal compression at first, but then we noticed that they were actually breaking off at the bottom: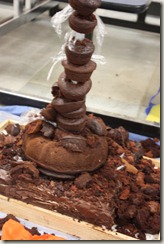 I got the idea of using the extra plastic wrap we had to wrap around the pole and support the cupcakes.  Unfortunately, by the time we had finished getting it set up. the judging was over, and we did not get considered for the cake.  But I still insisted on building it, because I wanted to see what the finish product might look like:
It was pretty impressive.  It was the only cake you could see from outside: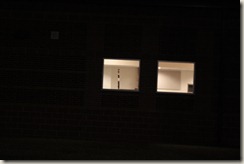 We were very proud of our work:
When it came time to announce the awards, the leader, Scott Peterson, game special recognition to our tower.  He said that this kind of thing is what is going to get us to Mars.  We were very happy and thrilled that he started out with that.  We were a little sad that we did not get the tallest cake award, but we are very glad we did it!!
Sonia made a nice poster with pictures on it describing the making process.  It was great.
Can you guess what we did when we got home?
We ate cupcakes.  And we will probably be eating them all next week..
We also went to a friend's house and guess what we brought them?  Cupcakes.
Now after having cleaned up the kitchen, we are all ready for bed.