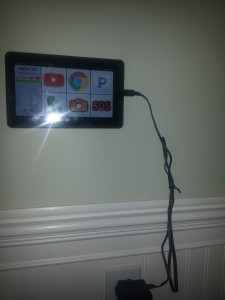 We have been slowly collecting tablets in the form of iPad (original), iPad mini, HP slates, and recently through a purchase of 2 RCA slates that we got for $65 from Walmart during the most recent black Friday sale.
My wife had a good idea of mounting one in the laundry room so that she can listen to music while doing laundry.  We have been thinking of other uses, example: intercom.
There are many options available for mounting.  They make mounts just for this purpose and there are a few really cool DIY ideas.  However, looking for something quick and simple, I decided to go with adhesive valcro tape.  This worked wonder.
I just put two strips on the back, and attached to the wall