Space City Con is a Sci-fi, comic, fantasy, game conference that is currently being held in Galveston, TX. My youngest son, Christopher and I went today and had a blast.
It was held at the Moody Garden Hotel and Convention center.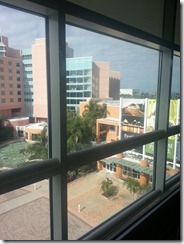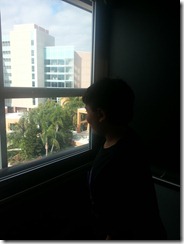 We saw all sorts of things. Here is a sampling: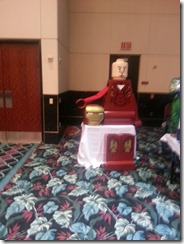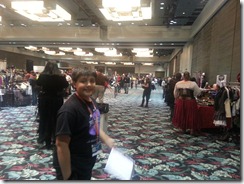 We met many creative people.
Brian Parker who wrote a zoombie novel called Gnash and Self-Publishing the Hard Way, and some other books.
There were all sorts of characters there including people from Dr. Whol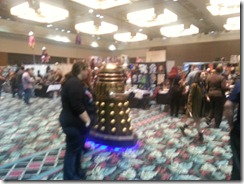 And all sorts of neat stuff for sell.
Christopher of course was on the prowl for comic books. That was his main motivation for going. But there were only about 4 vendors selling comic books.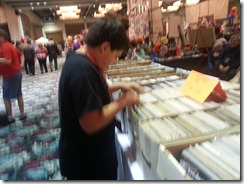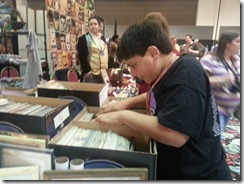 Chris Chomiak from Bedrock City comics was very helpful. He said to just email him what we were looking for and he would have it sent over to the location on FM 1960 near our house.
Somebody pulled the fire alarm. We all had to excite the building and the fire department came. No reason for alarm.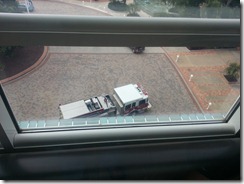 There was an interesting caution sign. I think they mean for it to indicate that pedestrians might be hit by a car. but I can't help thinking that turning on your left blinker might make people dance around. Take a look and let me know what you think.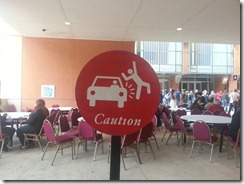 Saw a person with a minon backpak and one with an evil minon backpack.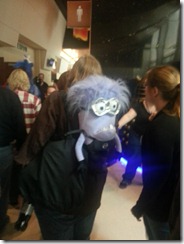 We also met Jason Poland who publishes Robbie and Bobby about a Robot and his boy.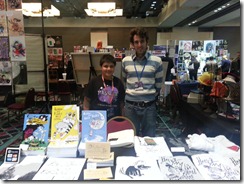 And we met Emily Rose who is an artist. You can see some of her art on her website Death's Pale Horse.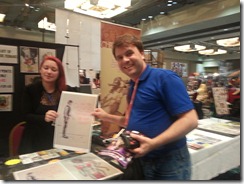 There were characters from Mario which were going around playing Mario music. They also took time out to play with light sabers. (Anything can happen at these conventions.)
We also got a Super man minon drawing from Robert James Ludeke.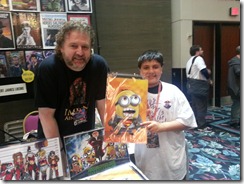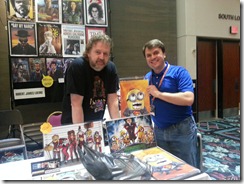 There was a room dedicated to playing all sorts of games. I do not know much about these, but the boards looked really interesting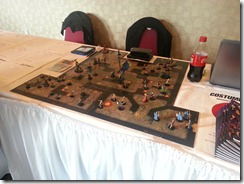 There were a lot of people dressed up. Here is a person dressed as the Joker from Batman.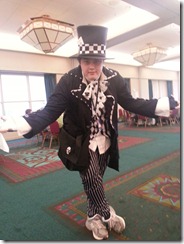 We did end up playing Zombicide
. It was really fun. And it was a collaborative game instead of a competitive one. All the players were against the zombies and we were helping each other and interacting in very mutually supportive ways. I definitely recommend it.
I understand that it started out on Kickstarter and was a big success.
We made one last trip to the exhibit hall and met up with two more creative people: Matt Gordon & Jessie Jordan.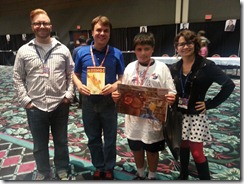 We also met Bruce Small who wrote Transyltown.
Here are just a few things we bought while we were at the convention: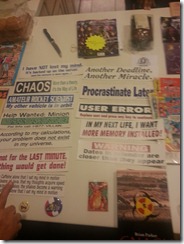 Some of the bumper stickers were really good: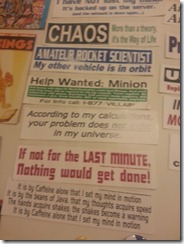 Christopher can't wait to go to the next one. And I am looking forward to it too.